2017-2018 Theater Department Season
Tickets for all Theater Performances:
$14: Adults
$10: Seniors 55+, Children 13 & Under, Non-Mt. SAC Students w/ Student ID
$6: Mt. SAC Students with Mt. SAC ID
Unless otherwise noted, Theater Department shows are not recommended for children under the age of 8.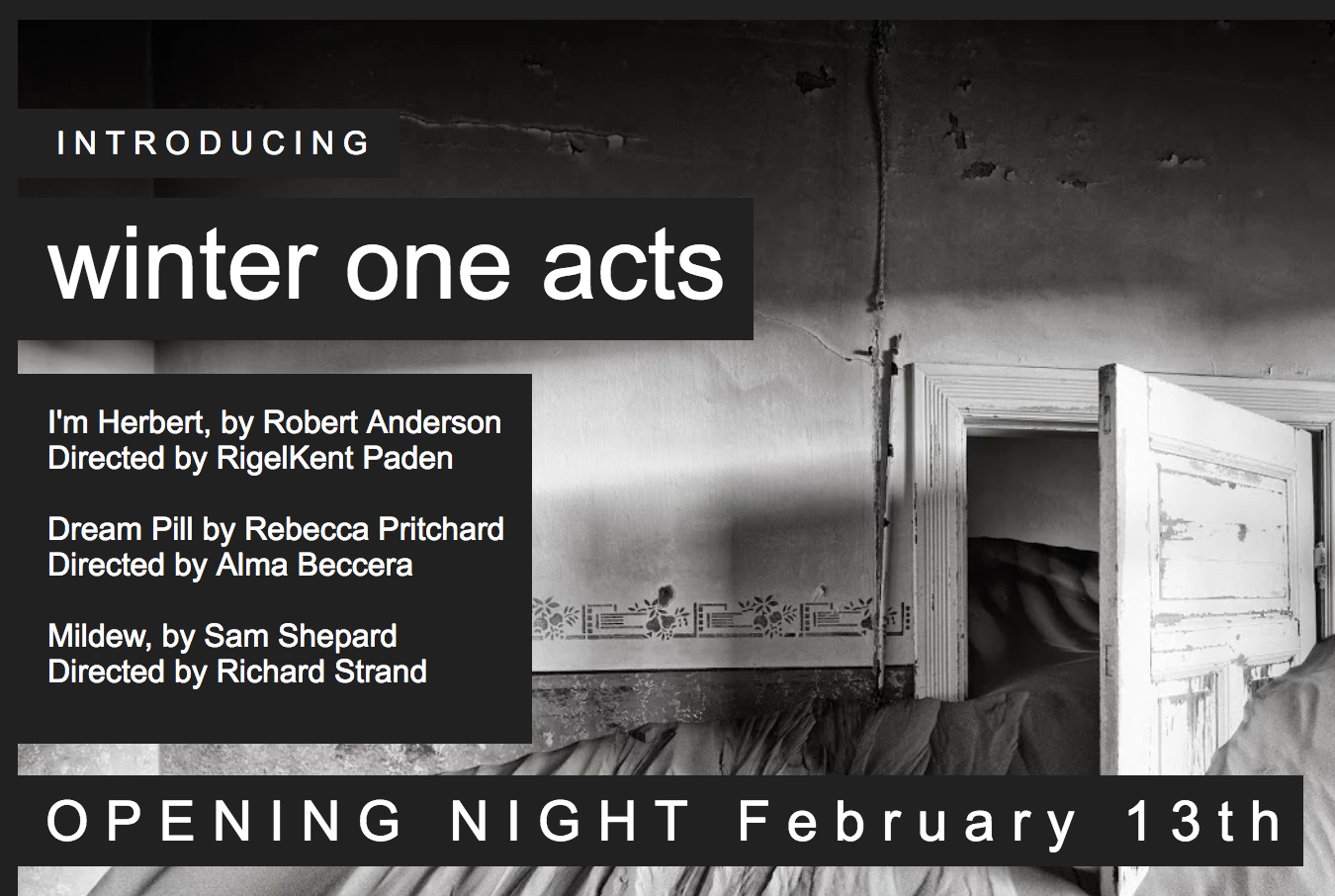 Dream Pill
by Rebecca Prichard
Directed by Alma Edith Becerra
The harrowing story of two clever, resilient girls forced into conditions no child should ever experience.
Content Warning: This play contains graphic language, themes and other adult content and is not appropriate for children.
I'm Hebert
by Robert Anderson
Directed by RigelKent Paden
An elderly couple sitting in a pair of rocking chairs talking, reminiscing, and amusingly confusing each other's names, each other's former lovers and even their own identities.
The Mildew
by Sam Shepard
Directed by Richard Strand
A young man hopes to introduce you to his friends, but in doing so he discovers that his life and the town he lives in are not as wonderful as he thought they were. This short, dark comedy was written by the late Pulitzer Prize winning playwright Sam Shepard when he was a student at MT. SAC in 1961. This is likely the premiere production of that great writer's first play.
Venue: Studio Theater
Showtimes:
Tues., Feb. 13, 2018 at 8 p.m.
Wed., Feb. 14, 2018 at 8 p.m.
Thurs., Feb. 15, 2018 at 8 p.m.
Six Characters in Search of an Author
By Luigi Pirandello
Directed By Christine Cummings
Pirandello surrealist tragicomedy presents six mysterious characters as they interrupt a group of actors about to rehearse a play, informing them that they seek an author because their own writer abandoned his play before completing their story. Desperate to come to life, the characters demand that the director stage their story suggesting they may actually be more real than the actors who merely play roles, while the characters are the roles. After all, what is real? What is illusion? And is it not the goal of the theater to present the truth, as absurd and disturbing as it may be?
Venue: Sophia B. Clarke Theater
Showtimes:
Sun., Apr. 22, 2018 at 2 p.m. - Matinee
Viewer Discretion Advised! This production has mature content and may not be appropriate for children.
26 Pebbles
By Eric Ulloa
Directed By Matthew Kellen Burgos
Mt. San Antonio College's Theater Department is proud to present the West Coast premier of Ulloa's sobering and poignant new work about the 2012 Sandy Hook Elementary School shooting in Newtown, Connecticut. This docudrama is based on interviews with parents and citizens in Newtown as they work to put their lives back together after an unthinkable tragedy tears through the small town. "These 26 innocent deaths, like pebbles thrown into a pond, created ripples and vibrations that were felt far beyond the initial rings," according to Ulloa. "This is the story of those vibrations."

Tickets will sell out. Please purchase early. 
Venue: Studio Theater
Showtimes:
Thurs., Jun. 7, 2018 at 8 p.m.
Sat., Jun. 9, 2018 at 8 p.m.